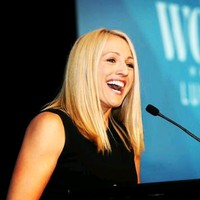 With 20 years in television news, Thalia Hayden is a veteran journalist on a mission to help American's get healthy.
She's an NBC News Anchor & Health Reporter in Palm Springs, CA, building her network through interviews and fundraisers.
She frequently volunteers her time to emcee events, moderate panel discussions, sit on panels related to media expertise or to speak in front of crowds on various topics ranging from her personal story, to life as a journalist.
More specifically, Thalia has worked events as an emcee or keynote speaker for non-profit organizations such as Angel View, Boys & Girls Club of the Desert, Desert Cancer Foundation, Desert AIDS Project, Big Horn Bam, American Heart Association, United Way of the Desert, Palm Springs Animal Shelter, Animal Samaritans, College of the Desert's Foundation, Mama's House, Rotary & Women's Club (of all valley cities) and the list goes on.
She also works closely with NBC Palm Spring's television partners like Honda & Toyota of the Desert, hosting their 2020 Emmy nominated segment, "Essential Worker of the Week."
Thalia has written her first book titled, "Local Celeb" set to be published in the fall (2021). She is also a Contributor for 1 Habit books.
Thalia lives in Palm Springs, CA with her husband, daughter dog & cat. She is an advanced yoga practitioner, marathon runner, and avid hiker.
Fun facts about Thalia
Thalia has written her first book titled, "Local Celeb". It is a memoir about her life and experience in news media with anticipated publication in 2021.
She's an advanced Yogi (she can still do handstands and backbends.)
She ran a marathon in 2010 with a time of 4:20.
Get All the Latest News from Thalia!
"Thalia worked as an Emcee for an important Rotary event which I organized. She was super personable, friendly, and charming, a real delight to work with. I would not hesitate to recommend Thalia for any engagement which requires interfacing with people, as she is both at ease and effective in representing the cause and whomever she is assisting."

July 30, 2014, Ricardo was a client of Thalia's